The OnPoint spotlight is an ongoing blog series that highlights our employees and takes a closer look at the drive and personality of individuals on the OnPoint team. It is one way we show our appreciation for their hard work and achievements while helping our community get to know the people who make things happen here at OnPoint.
This week, we are recognizing our six recent Accelerated Platform Training (APT) program graduates: Alyssa York, Eric Steffen, Jennifer Schlottmann, Jeremy Dehut, Samara Bonsey, and Lacee Swanson. The APT program provides an excellent opportunity for employees to focus on gaining the new skills they require to advance in their careers here at OnPoint.
This employee spotlight is on Samara Bonsey, Member Service Representative at our 205 Place Branch. Samara started with OnPoint in 2018 as a Teller in our Clackamas Promenade Branch and was able to advance to her new role after completing OnPoint's APT program.
Here's what she had to share about her life and experiences with us here at OnPoint:
Tell us a little about yourself.
When I'm not at work, I enjoy spending time with my boyfriend and two kittens. My boyfriend and I play lots of board games and enjoy watching "This Is Us" together every Wednesday night.
What is your history with OnPoint?
I began my career as a Teller at OnPoint's Clackamas Promenade Branch. Even though I have only been with OnPoint for a little over a year, I have already advanced as a Member Service Representative. Next, I am interested in deepening my lending knowledge and learning more about OnPoint's business products and services
How are you assisting our members during the COVID-19 pandemic?
I educate members about the services we provide for them and our community. I also continuously wipe down my desk area between member visits to make sure we all are staying safe! Knowing that our company chooses to give back to the community and support its employees when it matters most is something I love to share with our members. It makes me feel proud to work for OnPoint!
What was your experience with the APT program?
The APT program is a great representation of how OnPoint invests in its employees. The group leaders made sure we had the guidance and tools necessary to succeed amongst our peers. I highly recommend others take advantage of such a wonderful learning opportunity.
What are you currently watching on Netflix?
Grey's Anatomy! I'm currently on season five.
Do you have any phobias?
I'm terrified of flying to the point where, if I have the option to drive, then I will. I have actually driven cross country! I started once in Virginia and drove through the south to California and then up to Oregon.
Tell us about a proud moment in your life.
I was a base for my cheer team for four years in high school, and during my senior year, my team won first in the state!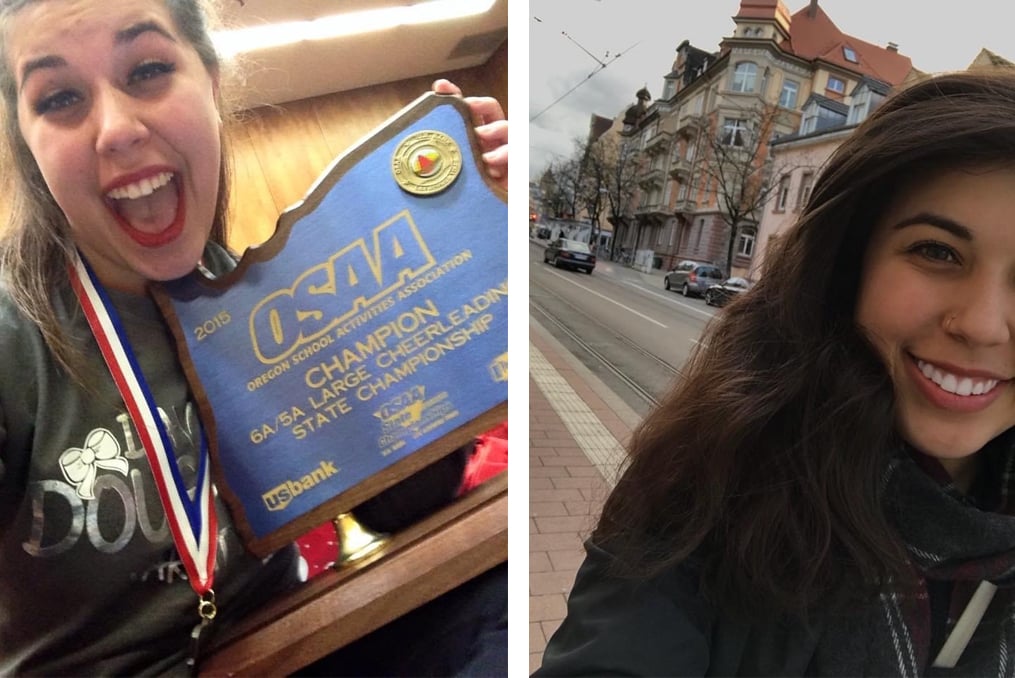 Where is your favorite travel location?
Germany! I've been to Frankfurt and Freiburg and it is absolutely worth the flight.
What do you enjoy most about working at OnPoint?
I really enjoy being able to educate young members on finances and all things banking!
Interested in joining our team? Learn more about a career with OnPoint.