The OnPoint spotlight is an ongoing blog series that highlights our employees and takes a closer look at the drive and personality of individuals on the OnPoint team. It is one way we show our appreciation for their hard work and achievements while helping our community get to know the people who make things happen here at OnPoint.
This week, we are recognizing our six recent Accelerated Platform Training (APT) program graduates: Alyssa York, Eric Steffen, Jennifer Schlottmann, Jeremy Dehut, Lacee Swanson, and Samara Bonsey. The APT program provides an excellent opportunity for employees to focus on gaining the new skills they require to advance in their careers here at OnPoint.
This employee spotlight is on Alyssa York, who started with OnPoint in May 2018 as a Teller at our 205 Place Branch. She now works at our Clackamas Promenade Branch as a Member Service Representative. Alyssa was able to advance to her new role after completing OnPoint's APT program.
Here's what she had to share about her life and experiences with us here at OnPoint:
Tell us a little about yourself.
My husband and I live in Milwaukie with our two-year-old daughter. Along with our one-year-old Lab mix, Ziggy, and our three-year-old cat, Lyra. We love spending time outdoors, whether it's camping, hiking, playing on the beach or going for a walk in the park.
What is your history with OnPoint?
I started with OnPoint as a Teller at the 205 Place Branch – the best of the branches! After about eight months, I transferred to our Woodstock Branch, where I felt like I blossomed. At a slower branch, I was able to take advantage of the time and browse our internal resources, teaching myself servicing and various procedures. I was also able to shadow our Member Service Representatives. This additional training and hands-on learning helped me prepare for the Accelerated Platform Training (APT).
How are you assisting our members during the COVID-19 pandemic?
Since our lobby is still open to the public, I have been offering words of encouragement to every member I encounter, assuring them that OnPoint is here for them. I educate each member about all the ways that OnPoint is here to support them, especially during this time of need.
What were you doing before joining OnPoint?
Before I started my career at OnPoint, you could find me at Black Rock Coffee making yummy drinks or at Frenzi Frozen Yogurt in Gresham.
What was your experience with the Accelerated Platform Training (APT) program?
APT is an amazing opportunity for employees who want to take the next step in their career. You have to be focused and dedicated in this program. Three months seems like a long time, but with the amount of information you're learning, it can quickly become overwhelming if you don't stay on top of your weekly tasks. Ask lots of questions when you're shadowing reps, and when you're in class. If something isn't clicking, ask more questions. Take advantage of every minute and take it seriously. This program is amazing for people who are serious and eager to learn.
Tell us a bit about your goals within your new role.
I'm excited to apply the knowledge I have gained in the APT program to my new position as an MSR. I am also excited to continue learning because even the most seasoned MSRs still learn something new every day. I want to give kudos to the Clackamas Promenade Branch for making me feel welcome since the day I arrived. Checking in with me regarding the APT program and providing more exposure to key tasks helped me grow into my new role. Having a team that wants to see you succeed makes the program that much more successful.
What is your favorite season?
Fall. I love seeing the leaves change colors. It's the perfect time of the year to go on scenic drives.
What is the "nerdiest" thing that you do in your spare time?
I love nerding out and playing video games with my husband. (Don't tell him, but sometimes I let him win.) We are also diehard Dragon Ball fans.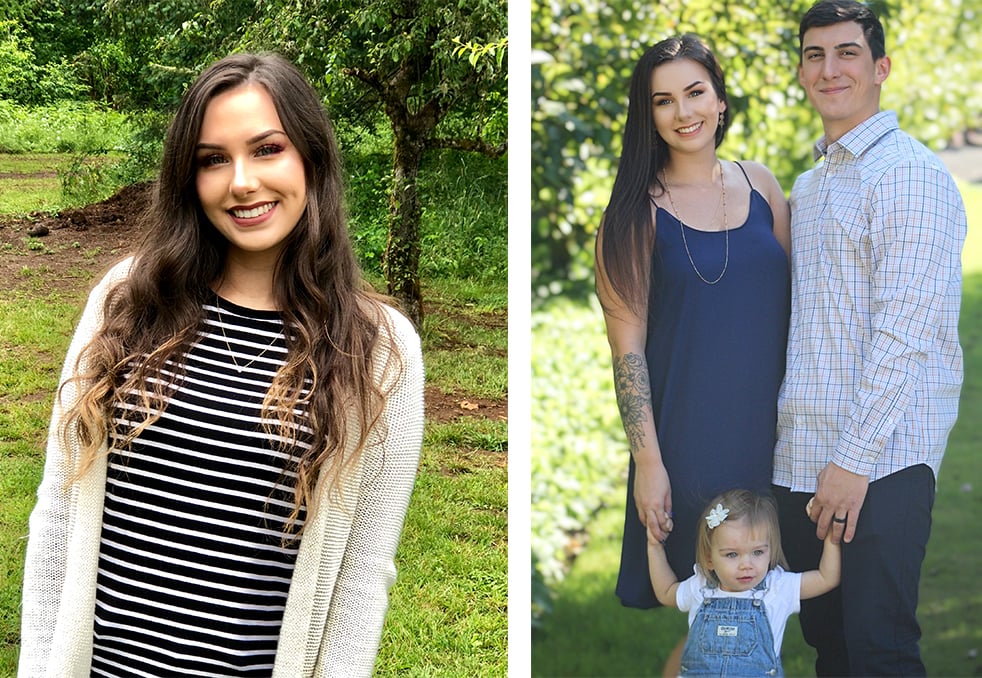 Who is your celebrity doppelgänger?
I've had people tell me that I look like Avril Lavigne and Mila Kunis. I don't see it.
What do you like on your pizza?
Pepperoni and pineapple. Sue me.
What's one piece of life advice you would give others?
Get out of your comfort zone and do things that scare or intimidate you.
Interested in joining our team? Learn more about a career with OnPoint.