Our Education Roots Sprout Success: Part 3
Students who are historically underserved face systemic barriers in K-12 education, which can lead to the belief that they don't belong, they can't succeed, or that school doesn't matter. In part three of our 'Education Roots Sprout Success' series, we highlight a few of the local organizations we partner with that help students overcome marginalizing barriers and reach for a limitless future.
In4All—mobilizing the community to change lives
In4All is an innovative local non-profit that impacts historically underserved students by bringing together the education community and businesses to co-create and deliver student engagement programs. By engaging students throughout their K-12 journey with industries and professionals, In4All aims to help students overcome barriers and embrace their potential. The model based on STEM (Science, Technology, Engineering, Math) education is hands-on for both the students and volunteers.
"OnPoint started with a bang this past year, and their volunteers continue to bring excitement and engagement into our virtual classrooms through our Design Thinking Program," said Krystal Ngene, Community and Corporate Engagement Manager, In4All.
In October 2020, 43 OnPoint employees rolled up their sleeves and assembled 2,000 STEM Connect take-home kits for local fourth-grade students across Oregon. Students later used the kits in virtual workshops to engage in In4All's STEM Connect Bridge Building and Marbles in Motion activities.
As hybrid learning began for middle school students at Raleigh Hills Middle School in mid-April, OnPoint volunteers led design thinking learning experiences for sixth-grade math students at the Southwest Portland K-8 school. Working together, OnPoint volunteers and students used design thinking to identify issues in their community, from bullying to sidewalk and crosswalk safety and develop innovative, human-centered solutions. Learn more about In4All's Design Thinking Program, which provides hour-long activities for middle school students across Oregon to increase their critical thinking skills, STEM identity, confidence, and a sense of belonging in the classroom.
"Our programs and activities become more than a classroom lesson for students. They are mutually beneficial learning experiences as volunteers engage with talented students who are persons of color navigating poverty and other systemic inequities," continued Krystal. "By working alongside each other to address the critical issues local students face, volunteers see firsthand the systemic inequities that exist in the education system and our students' communities."
COVID-19 has uniquely impacted learning, and together, we are working to ensure students remain engaged and inspired through virtual learning and beyond. Learn more from In4All and discover the many ways you or your business can help close the achievement gap and inspire the next generation of scientists and leaders.
De La Salle North Catholic High School—investing in tomorrow's leaders
For almost 20 years, we have partnered with De La Salle North Catholic High School (DLSNC) to further its mission of providing a rigorous, college-prep education to a diverse, underserved student population. Through DLSNC's Corporate Work-Study Program, we provide students with valuable, real-life work experience that prepares them for success in the workplace. Last year, we donated $100,000 to support the school's capital campaign, which will fund a new permanent campus in Northeast Portland.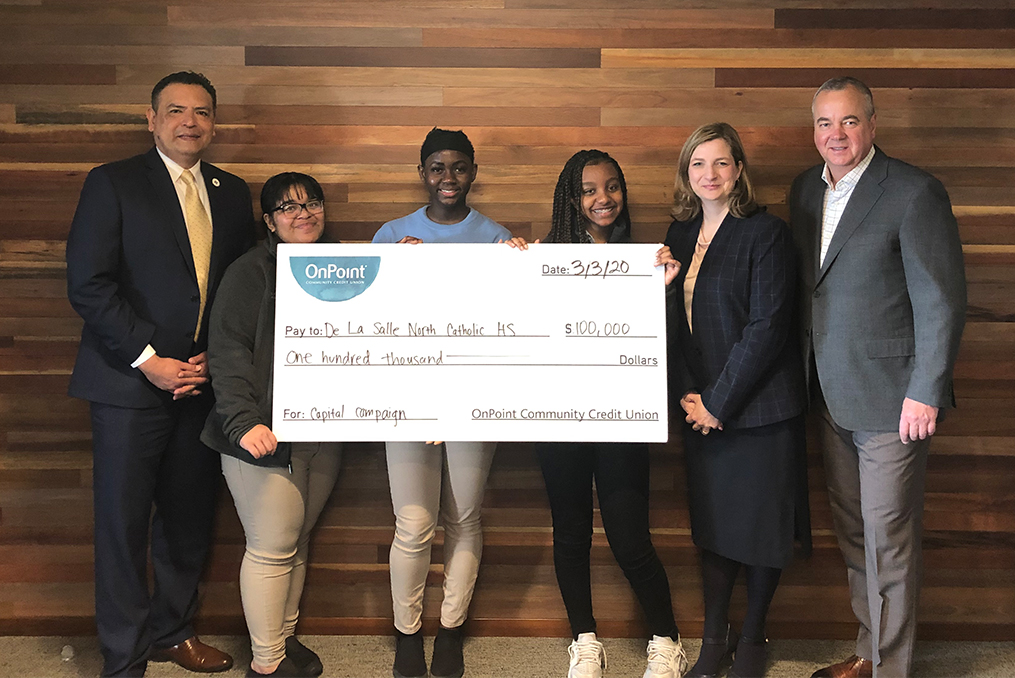 In addition to the Corporate Work Study program and financial support, OnPoint employees like Leslie Warren volunteer their time teaching financial literacy to DLSNC students.
"It's crucial for high school students to receive financial preparation before heading to college or moving into their own home," said Leslie, a Financial Advisor at OnPoint's Hawthorne Branch. "While many students still live with their parents and don't have an immediate need to budget, they will once they are on their own, and they need to prepare now."
Financial education has been a welcome course of study for students and teachers alike at DLSNC.
"Guest speakers like Leslie bring expertise, a variety of perspectives, and wisdom to the classroom experience," said Polly Waibel, a teacher at DLSNC. "Having new people with different backgrounds and interests helps students focus through virtual learning and exposes students of color to a variety of career opportunities."
After engaging students in basic financial concepts such as reading a paycheck, evaluating needs versus wants, and the importance of saving, OnPoint's financial education volunteers participate with students in an interactive Q&A session.
Mrs. Waibel says her students leave the presentations feeling a new sense of freedom and confidence, gaining knowledge and skills that prepare them for adulthood. One student reflected, "I learned if we spend our earlier years saving instead of spending, then financially, we would be in a better position than we are now. I have a lot of catching up to do so that I can be comfortable and be in a better position than my parents for my own family."
Black United Fund (BUF) of Oregon—breaking down barriers one student at a time
In addition to our partnerships with In4All and DLSNC, we are proud to support the Black United Fund (BUF) of Oregon. For more than 35 years, BUF has helped BIPOC students pursue their higher education and vocational training dreams. Through mentorship, workshops, scholarships, and many other targeted resources, BUF fuels social and economic development in underserved communities, one student at a time.
We are partnering with BUF to combat racial disparity in our community and the education system. Our initial financial commitment of $25,000 to BUF in July 2020 was a part of a $100,000 donation to local organizations supporting people of color. That was just a first step. We will be donating an additional $25,000 in 2021 to support even more students served by BUF. We continue to look for opportunities to work with BUF in helping advance racial justice and equity. Learn more about supporting BUF and the Black community.
As the education community still faces many unknowns and the fight for social justice continues, in part four of our series, we share why in 2021, it is more important than ever we honor the outstanding educators in our lives.